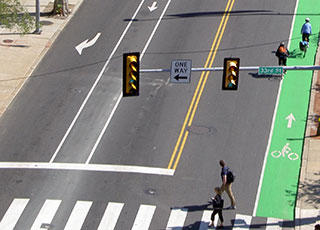 Fine Line Pavement Striping is Maine's leading installer of Methyl Methacrylate (MMA) markings. This two component cold marking system is one of the most durable pavement marking products in the industry and can be applied at much colder temperatures then typical waterborne traffic paint allowing for an extended pavement marking season.
The high durability of MMA pavement markings makes it an extremely popular product to install in highly trafficked areas and locations that cannot be easily shut down to allow for annual restriping. Although MMA is relatively new to the region, the product is gaining much popularity as its color stability over time is desirable for such areas like colored bike lanes, crosswalks and other pedestrian areas allowing for increased safety measures to the traveling public.
MMA markings have increased wet night visibility, skid resistance and can bond to both asphalt and concrete surfaces. More and more municipalities are considering making the switch to MMA as data from regions with extreme winter seasons continues to show that while the initial investment may be higher than typical traffic paint, the integrity of the product long outlasts typical paint making MMA markings cost less in maintenance over the extended life of the markings.